ISCRIVITI ALLA SIC

La Società Italiana di Cardiologia è un' Associazione Scientifica Accademica tra le più antiche e prestigiose che vanta tra i suoi padri fondatori scienziati di chiara fama.
L'Associazione ha lo scopo di riunire i cultori della Cardiologia al fine di promuovere il progresso nel campo della conoscenza
PROGETTO RIPARTO
Il Progetto RIPARTO nasce dalla necessità di raccogliere alcune Raccomandazioni, condivise tra diverse Società Scientifiche, che diano indicazioni operative sia di tipo clinico che di tipo assistenziale, in merito all'inquadramento ed alla gestione del Paziente Diabetico con Multimorbidità cardiovascolari. Il primo documento si focalizza sul Paziente Diabetico con segni e sintomi di Scompenso Cardiaco.
Tale scelta di priorità, si fonda su alcuni criteri discussi dal Panel degli Esperti e che tiene conto dei seguenti aspetti: complessità gestionale (qualitativa), rilevanza per le Società Scientifiche interessate, carico delle prestazioni cliniche e frazione epidemiologica interessata.

Comunicato stampa

Documento su paziente diabetico e scompenso cardiaco
Tavola rotonda "One Valve One Life – Le Nuove Frontiere della cardiologia mini-Invasiva"

Tavola rotonda "One Valve One Life – Le Nuove Frontiere della cardiologia mini-Invasiva"
BIBLIOTECA DEL SENATO "GIOVANNI SPADOLINI" - SALA DEGLI ATTI PARLAMENTARI - Piazza della Minerva 38 – Roma
Valve Prosthesis Beats Repair for 2-Year Durability in Severe Ischemic MR

ORLANDO, FL ( UPDATED WITH COMMENTARY ) — Two-year outcomes from the National Institutes of Health (NIH)–sponsored Cardiac Surgery Clinical Research Network (CTSN) trial suggest that patients with severe ischemic mitral regurgitation (MR) fare just as well when the valve is repaired or replaced, at least when it comes to measures of left ventricular reverse remodeling and survival, but that replacing the mitral valve provides a more durable correction of MR[1].
Association of Coffee Consumption with Total and Cause-Specific Mortality in Three Large Prospective Cohorts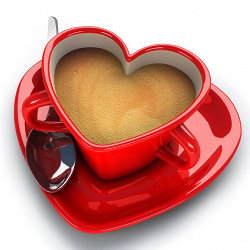 Abstract
Background—The association between consumption of caffeinated and decaffeinated coffee and risk of mortality remains inconclusive.
Methods and Results—We examined the associations of consumption of total, caffeinated, and decaffeinated coffee with risk of subsequent total and cause-specific mortality among 74,890 women in the Nurses' Health Study (NHS), 93,054 women in the NHS 2, and 40,557 men in the Health Professionals Follow-up Study.
Effects of Ranolazine on Angina and Quality of Life After Percutaneous Coronary Intervention With Incomplete Revascularization

Abstract
Background—Angina often persists or returns in populations following percutaneous coronary intervention (PCI). We hypothesized that ranolazine would be effective in reducing angina and improving quality of life (QOL) in incomplete revascularization (ICR) post-PCI patients.
A Randomized Trial of Intensive versus Standard Blood-Pressure Control

Hypertension is highly prevalent in the adult population in the United States, especially among persons older than 60 years of age, and affects approximately 1 billion adults worldwide.1,2 Among persons 50 years of age or older, isolated systolic hypertension is the most common form of hypertension,3,4 and systolic blood pressure becomes more important than diastolic blood pressure as an independent risk predictor for coronary events, stroke, heart failure, and end-stage renal disease (ESRD).5-13
Coronary Heart Disease Mortality Declines in the United States From 1979 Through 2011: Evidence for Stagnation in Young Adults, Especially Women
Abstract
Background—Coronary heart disease (CHD) mortality rates have fallen dramatically over the past four decades in the Western world. However, recent data from the US and elsewhere suggest a plateauing of CHD incidence and mortality among young women. We therefore examined recent trends in CHD mortality rates in the US according to age and sex.
NOVITA' DA LONDRA 2015: LE NUOVE LINEE GUIDA SULLA PREVENZIONE DELLA MORTE IMPROVVISA

The new ESC Guidelines for the management of patients with ventricular arrhythmias (VA) and the prevention of sudden cardiac death (SCD), written by 18 Task Force members and supported by 810 references, are very broad and comprehensive. The document had 74 peer reviewers, and it was our privilege to act as review coordinators.
Leggi l'articolo pubblicato su: ESC
NOVITA' DA LONDRA 2015: LA LUNGHEZZA DEI TELOMERI DOPO RIVASCOLARIZZAZIONE

A short telomere length predicts adverse clinical outcomes following revascularisation procedures independent of age, according to a finalist abstract at the Cardiovascular Ageing and Senescence Young Investigator Award yesterday.
Leggi l'articolo pubblicato su: ESC
NOVITA' DA LONDRA 2015: LE NUOVE LINEE GUIDA SULL'IPERTENSIONE POLMONARE

The new 2015 ESC/ERS Guidelines for the diagnosis and treatment of pulmonary hypertension (PH) are authored by the Joint Task Force of the ESC and of the European Respiratory Society (ERS) and endorsed by the European Paediatric and Congenital Cardiology, the International Society for Heart and Lung Transplantation, the European League Against Rheumatism, and the European Society of Radiology.
Leggi l'articolo pubblicato su: ESC
NOVITA' DA LONDRA 2015: LE NUOVE LINEE GUIDA SULL'INFARTO NSTEMI

The ESC Guidelines for the management of acute coronary syndromes in patients presenting without persistent ST-segment elevation represent an update of the 2011 version with several renewed recommendations based on evidence published over the past four years.
Leggi l'articolo pubblicato su: ESC
La FDA approva Repatha (evolocumad) per alcuni pazienti con alti livelli di colesterolo

The U.S. Food and Drug Administration today approved Repatha (evolocumab) injection for some patients who are unable to get their low-density lipoprotein (LDL) cholesterol under control with current treatment options.
Repatha, the second drug approved in a new class of drugs known as PCSK9inhibitors, is approved for use in addition to diet and maximally-tolerated statin therapy in adult patients with heterozygous familial hypercholesterolemia (HeFH), homozygous familial hypercholesterolemia (HoFH), or clinical atherosclerotic cardiovascular disease, such as heart attacks or strokes, who require additional lowering of LDL cholesterol.
Recommends Radial Over Femoral for Patients with Acute Coronary Syndrome (ACS)

August 29, 2015 -- London --
Today the European Society of Cardiology (ESC) gave the highest recommendation to the radial (wrist) approach for catheter-based interventions in patients with acute coronary syndromes (ACS). The "ACS without persistent ST-segment elevation (NSTE-ACS) guidelines," drafted by an international multidisciplinary Task Force, were introduced as part of this year's annual European Congress of Cardiology meeting, and are now
published online.
VIVI CON IL CUORE

CAMPAGNA DI INFORMAZIONE SALVA-CUORE PER LE DONNE
visita la pagina su: www.viviconilcuore.it
New Therapies in the Treatment of High Cholesterol: An Argument to Return to Goal-Based Lipid Guidelines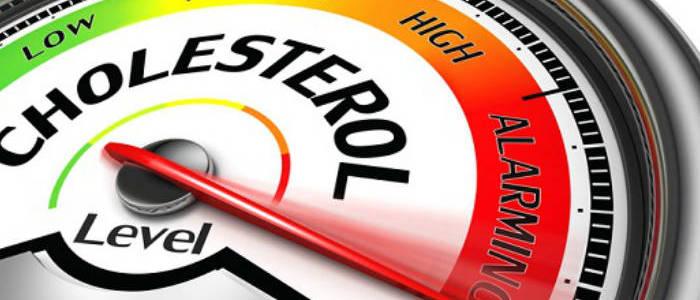 Abstract
On July 25, the US Food and Drug Administration (FDA) approved alirocumab (Praluent), the first in a new class, the proprotein convertase subtilisin/kexin type 9 (PCSK-9) inhibitors. Approval of a second medication in the class is expected shortly. The injected medications are used to treat patients with hyperlipidemia, and early results suggest these drugs have a powerful effect on levels of low-density lipoprotein cholesterol (LDL-C), likely more potent than statins. Although evidence continues to accumulate, the class appears to represent an important new development in hyperlipidemia management.
Specialty Society Clinical Practice Guidelines: Time for Evolution or Revolution?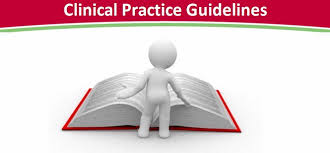 Abstract
Clinical practice guidelines (CPGs) should be the basis for improving the quality and safety of health care. However, despite enormous investment in development and dissemination, many CPGs are not used in the delivery of care. This is often because many CPGs are encyclopedic tomes without recommendations tailored for practical and effective implementation for physicians and health care workers or for patients, without measurement of effect, and often with developmental cycles so protracted that guidelines may be outdated by the time they are ready for application in clinical care.
Clinical Outcomes for Peripartum Cardiomyopathy in North America Results of the IPAC Study (Investigations of Pregnancy-Associated Cardiomyopathy)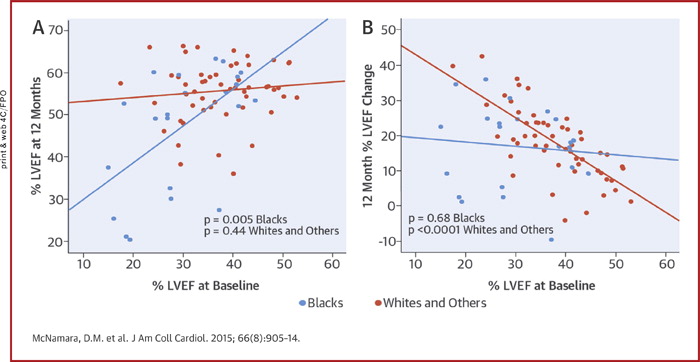 Abstract
Background Peripartum cardiomyopathy (PPCM) remains a major cause of maternal morbidity and mortality.
Objectives This study sought to prospectively evaluate recovery of the left ventricular ejection fraction (LVEF) and clinical outcomes in the multicenter IPAC (Investigations of Pregnancy Associated Cardiomyopathy) study.
New Insights and Clarity for Peripartum Heart Failure and Recovery in the Modern Era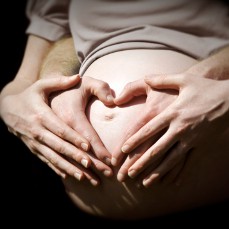 Abstract
Few diseases are as dramatic as peripartum cardiomyopathy (PPCM). This rare illness has been described in cultures across the world, is little understood, and afflicts a woman right at the moment she brings forth life. Several mechanisms of disease have been proposed, including myocarditis, inflammation and oxidative stress, the interplay of prolactin, autoimmune processes, fetal chimerism, and genetics ((1)). The current incidence varies depending on the population studied, from 1 in 1,000 live births in South Africa to 1 per 2,289 to 4,000 in the United States.
Duration of Dual Antiplatelet Therapy After Coronary Stenting: A Review of the Evidence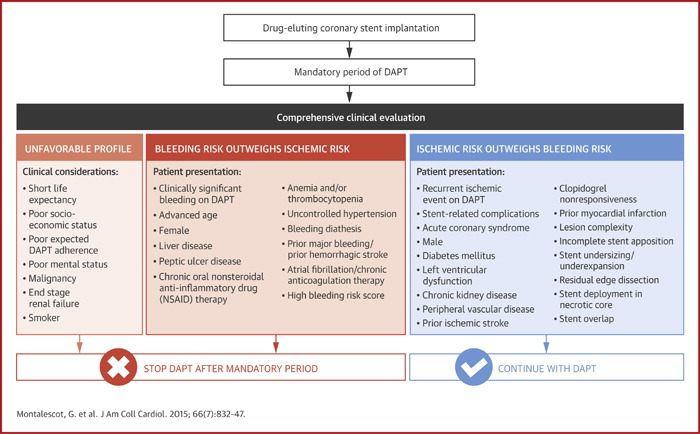 Abstract
The duration of dual antiplatelet therapy (DAPT) after coronary stenting has been evaluated in randomized studies with apparently conflicting results. Although longer exposure associates with more bleeding complications, late stent thrombosis (ST) and myocardial infarction are reduced.
Comprehensive Cardiovascular Risk Factor Control Improves Survival The BARI 2D Trial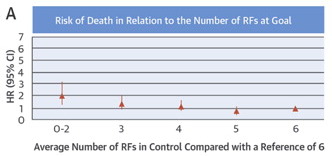 Abstract
Background It is unclear whether achieving multiple risk factor (RF) goals through protocol-guided intensive medical therapy is feasible or improves outcomes in type 2 diabetes mellitus.
1-Year Outcomes After Transcatheter Aortic Valve Replacement With Balloon-Expandable Versus Self-Expandable Valves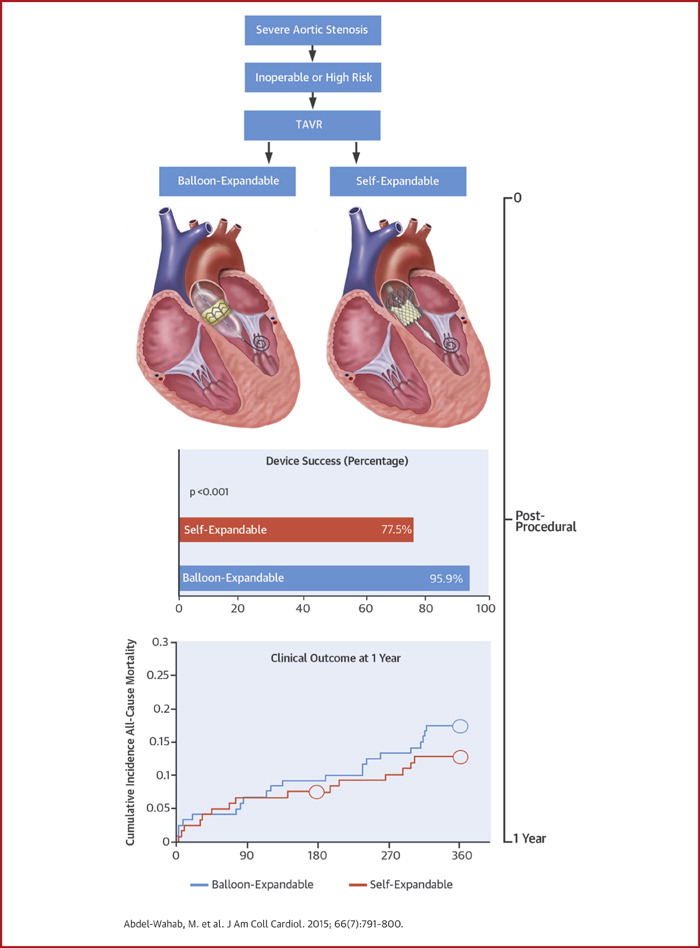 Abstract
Background The use of a balloon-expandable transcatheter heart valve previously resulted in a greater rate of device success compared with a self-expandable transcatheter heart valve.
Objectives The aim of this study was to evaluate clinical and echocardiographic outcome data at longer term follow-up.
Methods The investigator-initiated trial randomized 241 high-risk patients with symptomatic severe aortic stenosis and anatomy suitable for treatment with both balloon- and self-expandable transcatheter heart valves to transfemoral transcatheter aortic valve replacement with either device. Patients were followed-up for 1 year, with assessment of clinical outcomes and echocardiographic evaluation of valve function.
Severity of Metabolic Syndrome as a Predictor of Cardiovascular Disease Between Childhood and Adulthood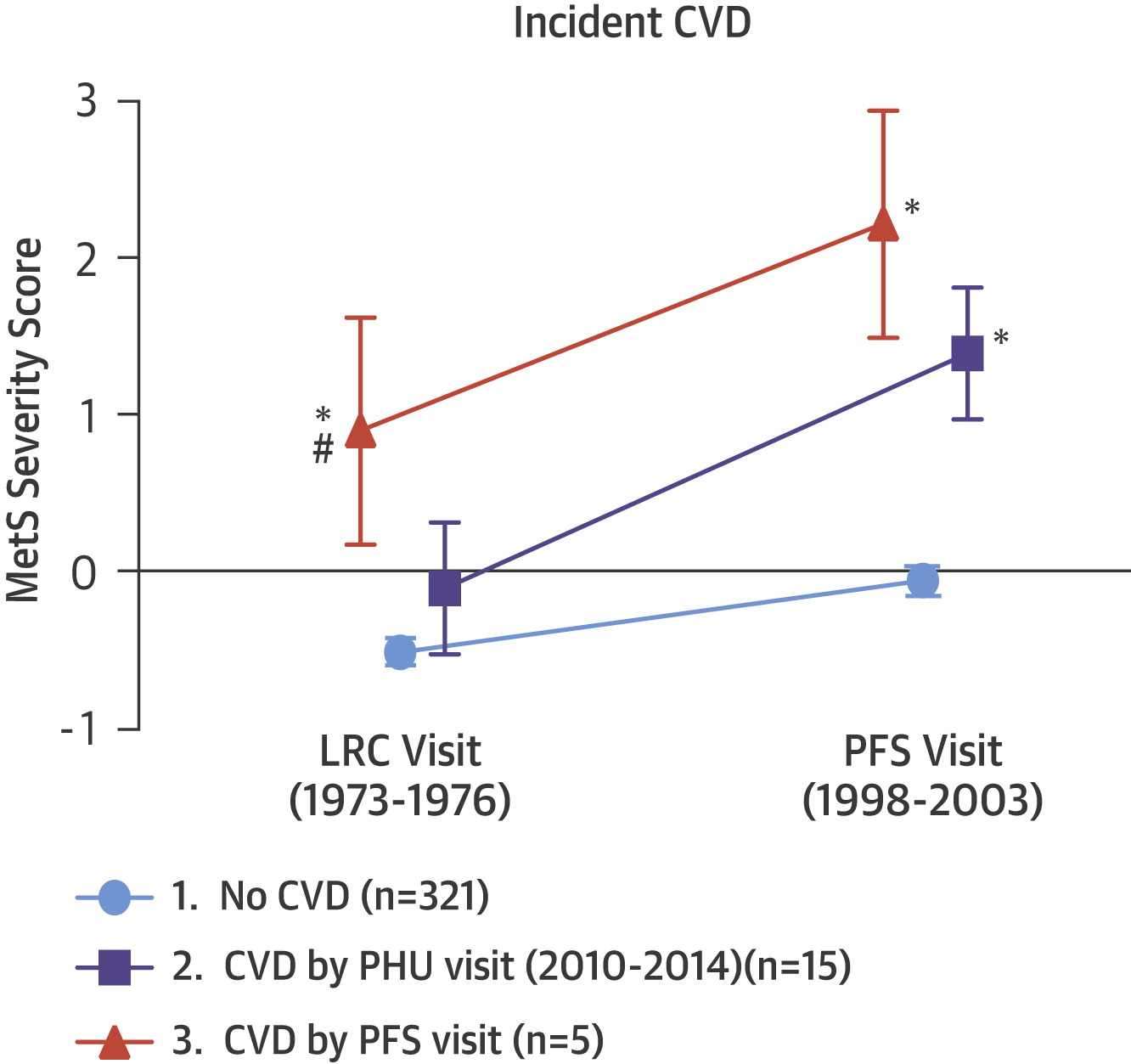 Abstract
The long-term ability of the metabolic syndrome (MetS) to predict cardiovascular disease (CVD) has been limited by the binary nature of traditional MetS criteria and by discrepancies among African Americans, who have low rates of MetS classification despite higher rates of death from CVD ((1)).
Use and Outcomes of Triple Therapy Among Older Patients With Acute Myocardial Infarction and Atrial Fibrillation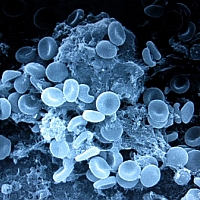 Abstract
Background Antithrombotic therapy for acute myocardial infarction (MI) with atrial fibrillation (AF) among higher risk older patients treated with percutaneous coronary intervention (PCI) remains unclear.
Objectives This study sought to determine appropriate antithrombotic therapy for acute MI patients with AF treated with PCI.
Update on Prevention of Cardiovascular Disease in Adults With Type 2 Diabetes Mellitus in Light of Recent Evidence

Abstract
Cardiovascular disease risk factor control as primary prevention in patients with type 2 diabetes mellitus has changed substantially in the past few years. The purpose of this scientific statement is to review the current literature and key clinical trials pertaining to blood pressure and blood glucose control, cholesterol management, aspirin therapy, and lifestyle modification.
Adenosine-guided pulmonary vein isolation for the treatment of paroxysmal atrial fibrillation
Abstract
Background
Catheter ablation is increasingly used to manage atrial fibrillation, but arrhythmia recurrences are common. Adenosine might identify pulmonary veins at risk of reconnection by unmasking dormant conduction, and thereby guide additional ablation to improve arrhythmia-free survival.
Comparison of the Short-Term Risk of Bleeding and Arterial Thromboembolic Events in Nonvalvular Atrial Fibrillation
Abstract
Background—The safety and effectiveness of Non-VKA Oral AntiCoagulants (NOAC), dabigatran or rivaroxaban, were compared to vitamin K antagonists (VKA) in anticoagulant-naive nonvalvular atrial fibrillation (nv-AF) patients during the early phase of anticoagulant therapy.
Cholesterol Lowering in 2015 Still Answering Questions About How and in Whom
Abstract
Following the first convincing trials in humans on the benefits of cholesterol lowering for prevention of atherosclerotic-related events, in 1985, then-Director of the National Heart, Lung, and Blood Institute Robert Levy asserted that the cholesterol "question" was no longer whether to treat high cholesterol levels, but rather when, in whom, and how.1 For 30 years, it has been well known that lowering blood cholesterol concentrations
Transformative Impact of Proteomics on Cardiovascular Health and Disease
Abstract
The year 2014 marked the 20th anniversary of the coining of the term proteomics. The purpose of this scientific statement is to summarize advances over this period that have catalyzed our capacity to address the experimental, translational, and clinical implications of proteomics as applied to cardiovascular health and disease and to evaluate the current status of the field.
Long-Term Outcome of Mustard/Senning Correction for Transposition of the Great Arteries (TGA) in Sweden and Denmark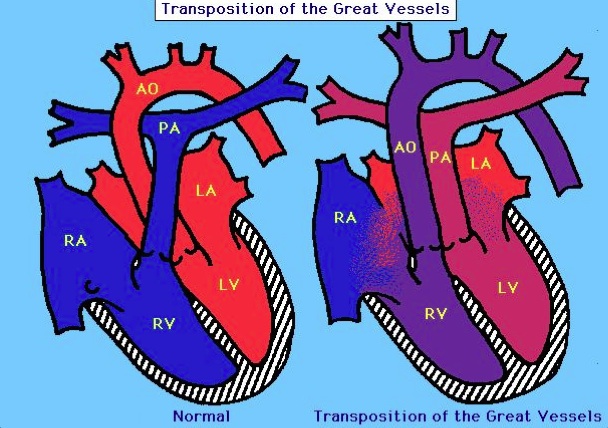 Abstract
Background—The atrial switch operation Mustard- or Senning operation for transposition of the great arteries (TGA) was introduced in the late 1950s and was the preferred surgery for TGA until the early 1990s. The Mustard- and Senning operation involves extensive surgery in the atria and
Cerebral Microbleeds are Associated With an Increased Risk of Stroke: The Rotterdam Study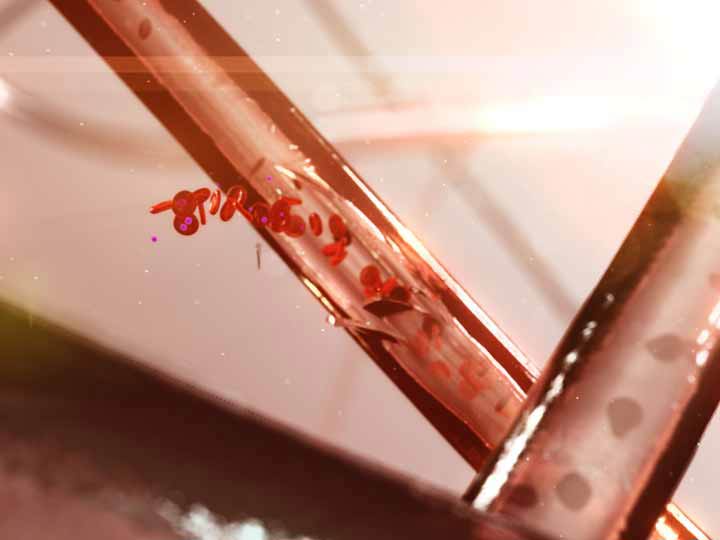 Abstract
Background—Cerebral microbleeds are highly prevalent in people with clinically manifest cerebrovascular disease, and have been shown to increase the risk of stroke recurrence. Microbleeds are also frequently found in healthy elderly, a population in which the clinical implication of microbleeds is unknown.
SISTEMA DI GESTIONE INFORMATICA
Aggiorna i tuoi dati accedendo alla piattaforma di gestione informatica